Join one of the largest and most comprehensive theatre programs in Canada.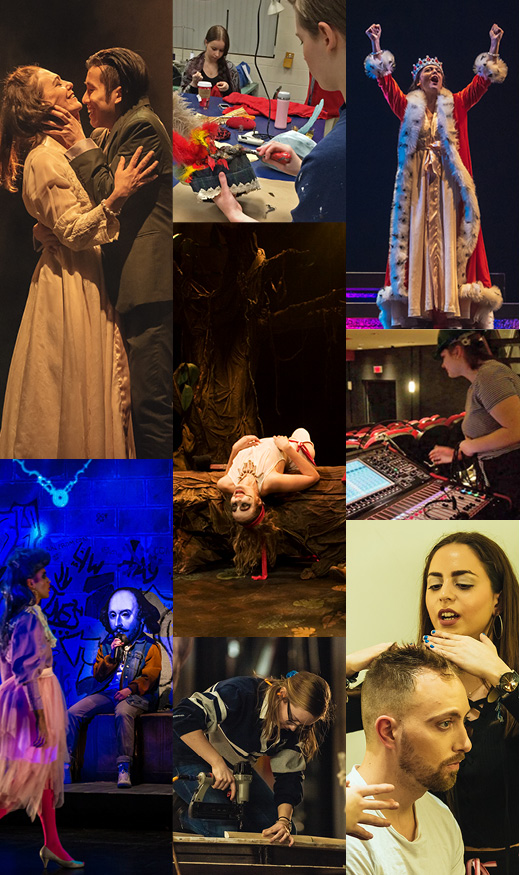 ABOUT
Theatre
If you've dreamed of becoming an actor, a director, a playwright or a production designer, or exploring the world of dramatic literature, history, theory and criticism, the Department of Theatre in York's School of the Arts, Media, Performance and Design (AMPD) is the place to make it happen. As one of the largest and most comprehensive theatre programs in Canada, we combine in-depth academic studies and rigorous practical training in all aspects of theatre, along with the chance to ignite career paths the world has yet to imagine.
Find your creative expression in the Department of Theatre's rehearsal studios, lighting lab, drafting and design studios, and carpentry and wardrobe shops. Share your creations using a wide range of specialized, professional facilities for performance. AMPD's Department of Theatre is the launch pad for a generation of Canadian talent and the place to start making your mark in the world.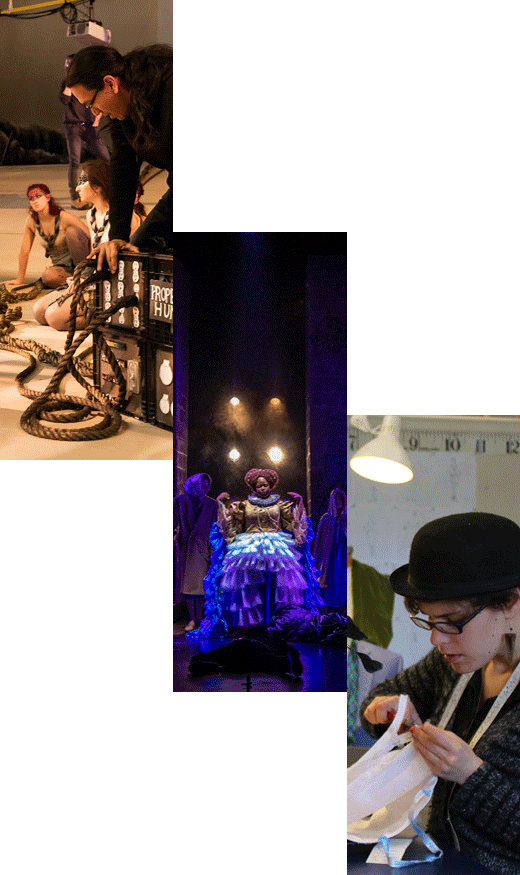 YOUR COMMUNITY
Unleash your creativity as part of a talented community of students, and practicing onstage, backstage and front-of-house professionals. Connect with our global network of alumni, including Hollywood A-lister Rachel McAdams; Artistic Director Weyni Mengesha (Soulpepper Theatre); and David Hein, co-creator of the international, award-winning musical, Come From Away.
YOUR CHOICE
AMPD's Department of Theatre is the place for interdisciplinary exploration. Hone your craft while pushing the boundaries of performance studies and practice with your fellow artists from across campus — including film, music, dance, digital media, and others — as well as artists in Toronto's vibrant theatre community.
YOUR CONNECTIONS
Learn from top industry professionals and gain exposure with our partners from across Toronto's thriving theatre scene and beyond. You can also showcase your creativity in workshop productions, the Department of Theatre's playGround festival of original student works, and Theatre@York's annual season of classical and contemporary plays.
OUR CREATIVE SPACES
Sandra Faire and Ivan Fecan Theatre
HIGHLIGHTS
A Brief History
1961
The Drama Club is founded, producing three one-act plays by Sandra Bracken. Without a theatre on campus at the time, the plays were performed at Forest Hill Collegiate to enthusiastic reception.
1965
The theatre program officially opens with performances by the York University Players, a troupe founded by John M. Smith, in Burton Auditorium, which opens that same year.
1967
In the spring, the Senate and Board give approval to establish the Faculty of Fine Arts.
1968
Jules Heller is appointed founding Dean of the Faculty, while Joe Green is appointed Chair and Don Rubin is appointed faculty in the Department of Theatre.
1969
The Department of Theatre enrols its first class.
1969
The Department of Theatre mounted two one-act plays by Tennessee William: 27 Wagons Full of Cotton and This Property Is Condemned, featuring Michael Burgess, Alain Goldfarb, Donna Farron Slivinski, and Charlotte Weisberg.
1971
The first university course on Canadian Theatre is introduced to the Department of Theatre, taught by Mavor Moore. At this time the department offered thirty courses, making it Canada's most comprehensive theatre program.
1971
The York Theatre Journal publishes its first issue in winter 1971.
1971
The Department of Theatre produces Lysistrata, directed by Robert Benedetti. From '73-'74, they produce ten productions (two with notable alum Robert Carson). In '74-'75 they produce twenty-two productions. In '78-'79 the New Play Festival is founded by Alan Richardson, which runs through the '80s.
1974
The Theatre Department launches the Canadian Theatre Review.
1979
Drama Studies became Theatre Studies, offering over 60 courses taught by more than 20 full-time faculty. The Foundation Year year was introduced.
1980
An MFA in Theatre is established.
1985
Leon Major directs The Best of York, a performance by students and alumni from all years of the theatre program. Barbara Budd, BFA '74, is the master of ceremonies.
1992
The student run theatre festival playGround is established.
2005
The Accolade buildings (East and West) are built, greatly expanding the Faculty of Fine Arts, including the Sandra Faire and Ivan Fecan Theatre, carpentry shop, and studios.
2007
An MA and a PhD in Theatre Studies are established.
2015
The Faculty of Fine Arts changes its name to the School of the Arts, Media, Performance & Design (AMPD).
FACULTY AND STAFF
People of Theatre
Associate Professor
Eric Armstrong
Professor Emerita
Elizabeth Asselstine
Associate Professor
Erika Batdorf
Associate Professor
Ines Buchli
Associate Professor
Michael Greyeyes
Associate Professor
Alberto Guevara
Associate Professor
Shawn Kerwin
Associate Professor
Paul Lampert
Associate Professor
Laura Levin
Associate Professor
John Mayberry
Associate Professor
James McKernan
Professor
Teresa Przybylski
Professor Emeritus
Donald Rubin
Professor Emerita
Judith Rudakoff
Professor Emeritus
Phillip Silver
Professor Emeritus
Ross Stuart
Associate Professor
Mark Wilson
Associate Professor
Belarie Hyman Zatzman
Professor Emeritus
David Bentley Boice
Professor Emeritus
Keith Bradley
Professor Emeritus
Douglas Buck
Professor Emeritus
Jill Courtney
Professor Emeritus
Robert Fothergill
Professor Emeritus
Jeff Henry
Professor Emeritus
David Rotenberg
Professor Emeritus
Ron Singer
Professor Emeritus
Anthony Stephenson
Professor Emeritus
Paula Thomson
Associate Professor
Magdalena Kazubowski-Houston
Associate Professor
Gwenyth Dobie
Associate Professor
Ian Garrett
Contract Faculty
Steve Ross
Contract Faculty
David Rayfield
Contract Faculty
Michael Cuttini
Associate Professor
Sylvia Defend
Contract Faculty
Jareth Li
Contract Faculty
Lisa Magill
Contract Faculty
Laura Jayne Nelles
Contract Faculty
Jennifer Triemstra-Johnston
Contract Faculty
Michael Kelly
Contract Faculty
Niki Landau
Contract Faculty
Aleksandar Lukac
Contract Faculty
Laurel Paetz
Contract Faculty
David Smukler
Contract Faculty
Allyson McMackon
Assistant Professor
Aaron Kelly
Assistant Professor
Gavin McDonald
Professor
Marlis Schweitzer
Assistant Professor
Jamie Robinson
Assistant Professor
Rebecca Caines
Assistant Professor
Danielle A.D. Howard
Assistant Professor
Jackie Chau
Sessional Assistant Professor
Courtney Ch'ng Lancaster
SPOTLIGHT ON ALUMNI
50 Years of Disruption
In celebration of the 50th anniversary of the Department of Theatre in 2018, we pointed our spotlight on 50 significant people from the past 50 years. Each week, we asked an alum 4 questions about themselves and their experience at York. Find out what they had to say.
Learn More
SURPRISE! SURPRISE
This subscription series allows students to see professional productions downtown. The fee for Surprise! Surprise! is collected with tuition for all first, second and third-year students. Tickets for these shows are available through the Department of Theatre office.
Toronto Theatre Tickets
Toronto's professional theatre community often offers York Theatre students free and discounted tickets for their performances, usually for their previews. Be sure to check your email for notices from HipTix.
Prime Time
Held on specified Wednesdays during the year at 11:30am, Prime Time is a requirement of all first year Theatre majors and is open to the rest of the Department. Directors, actors, designers, theatre makers, and playwrights are among the many interesting guests invited to share their experiences and discuss important issues for theatre artists. Other sessions focus on campus services and support as well as details on the second year process.
THEATRE STUDENTS
Getting Involved